Robert Beavers at CINEMATEK (2)
Winged Dialogue
Robert Beavers
,
1967
,
16mm
,
colour
,
3'
"Winged Dialogue details with growing clarity the desperate beauty and sexuality of the body animated by it's soul, essence blindly reaching out, touching, in brilliant patterns through and beyond those of the vanishing images, expressed vividly in the after-image on the mind, on the soul's eye". (Tom Chomont). 
Plan of Brussels
Robert Beavers
,
1968
,
16mm
,
colour
,
18'
"Shedding all traces of narrative in Plan of Brussels, Beavers filmed himself in a hotel room, both at his work desk and lying naked on the bed, while in rapid rhythmic cutting, and sometime in superimposition, the phantasmagoria of people he met in Brussels and images from the streets flood his mind". (P. Adams Sitney).
From the Notebook of ...
Robert Beavers
,
US, CH
,
1971
,
35mm
,
48'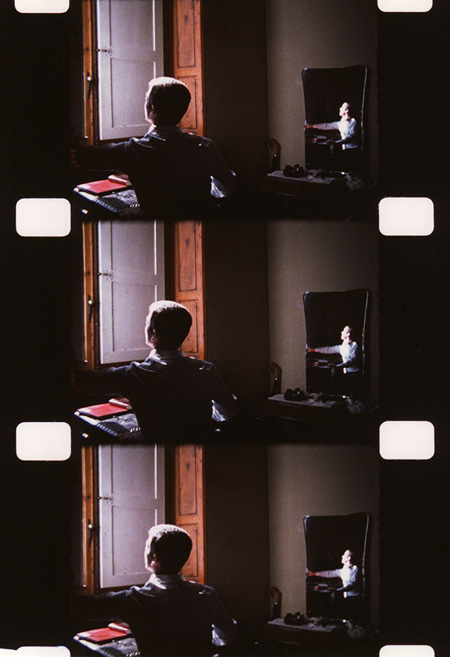 Deze film opent met een reeks door Beavers neergeschreven instructies: 'Sluit het raam op een kier, film mijn reflectie in de spiegel terwijl mijn hand voor het weerspiegelde licht beweegt.' In de volgende scène worden de handelingen uitgevoerd voor de camera: Beavers opent en sluit een raam en zijn gezicht beweegt in en uit het licht. Eenzelfde effect, ritmische verhulling en onthulling, komt tot stand met behulp van een gamma rekwisieten zoals 'mattes' of kleurfilters die het gezichtsveld kadreren en kleuren. Deze technieken refereren naar de camera's eigen functie van framing en representatie.
From the Notebook of ... werd gefilmd in Firenze en vertrekt van Leonardo da Vinci's notitieboekjes en een essay van Paul Valéry over de werkmethode van da Vinci. Deze twee elementen suggereren een impliciete vergelijking tussen de manier waarop renaissancekunst en het bewegende beeld met ruimte omgaan. De film was zeer bepalend in de ontwikkeling van het oeuvre van Beavers door het herhaaldelijke gebruik van een serie snelle pans en opwaartse bewegingen langs gebouwen of gevels in steden waarin hij vaak vluchtig zijn eigen gezicht integreert. Zoals Beavers zelf opmerkte zijn de camerabewegingen verbonden aan de aanwezigheid van de filmmaker en suggereren ze zijn onderzoekende blik. (Henriette Huldisch)
The Painting
Robert Beavers
,
1972
,
16mm
,
colour
,
13'
"The Painting intercuts shots of traffic navigating the old-world remnants of downtown Bern, Switzerland, with details from a 15th-century altarpiece, "The Martyrdom of St. Hippolytus". The painting shows the calm, near-naked saint in a peaceful landscape, a frozen moment before four horses tear his body to pieces while an audience of soigné nobles look on; in the movie's revised version, Beavers gives it a comparably rarefied psychodramatic jolt, juxtaposing shots of Gregory Markopoulos, bisected by shafts of light, with a torn photo of himself and the recurring image of a shattered windowpane". (J. Hoberman)